Moving Your Money?
picture: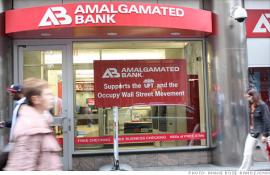 Both within, and outside of, the Occupy Wall Street movement, moving your money (if you have any) to a less cut throat bank is being discussed.
OWS does some of their banking with Amalgamated.
In 2000 I got married and my wife was using Amalgamated.
Sick of paying Chase $15 a month I switched over.
For 11 years I have used Amalgamated and they have never charged me a dime.
I don't know enough about them to give them a grade regarding ethics.
They are one of the banks suggested on a site for people interested in moving their money out of Bank of America, Citibank, etc.