Steve Shiffman EP #2 out now.
picture: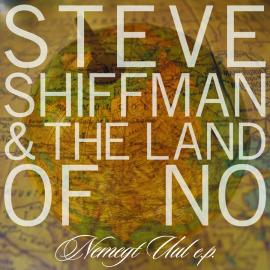 Steve Shiffman and The Land of No's EP#2 is out today! It's titled "Nemet Uul" - head on over to their webshop to listen to it in its entirety - and to purchase: http://ssatlon.bandcamp.com/album/nemegt-uul-ep
Here's a quick tour of the three songs on the EP taken from their press release:
"All Part Of His Plan" has long been a live favourite (looking at you
Toby Goodshank and Bruce Lynn!). Hat's off to the amazing Aaron Kant for playing the crap out of the drums on this song and also the third one. Sending you Peter Falk smoke signals, Aaron!
"Never Know What To Say" - this one is an outtake from a time long
begone, with our dear friend and original drummer Pete Hayes on drums. Recorded by wunderkind Juan Pieczanski of the band Small Black, this track is an exclusive offering, ie - it will *not* be on the final cumulative vinyl release, so take it for a spin. Did you know Pete
played with us at our recent show in Beacon, NY?
"It's OK" - yep that's Steve's solo in the middle, but allow yourself
to be pointed toward the dual madness that is Alec and dAve at the
outro. Holy smokes!
"Nemegt Uul" EP Release Party:
Fri. Nov 4, 2011
Cake Shop (NYC)
w/ Steve Shiffman & The Land Of No: 4th
Only Son: 3rd
Nights: 2nd
Matt Focht (Head Of Femur): 1st
+ DJ Nicole Atkins spinning fine tunes throughout the night!
$8 cover. Doors: 8pm. 21+