At Home He's a Tourist
picture: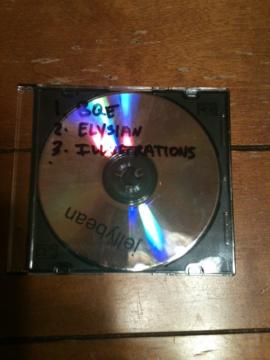 The Dirtbombs are playing at the Bell House and I'm thinking of going. I've been a fan of The Dirtbombs since the White Stripes Detroit craze. I've seen them a couple of times and really enjoyed their shows. I have a bunch of their records and they're always a terrific listen. They have out a new triple 12 inch LP of detroit techno songs. ALthough they do a lot of original songs, The Dirtbombs are also musicologists, they also put out an LP of r&b and soul covers. So I call Matt to see if he wants to go. Matt tells me he's going to Brooklyn to see Christie's band play so I decided to go because I've never seen her band play before. Actually no one has seen her band play before because this is their first show, they've been rehearsing for a year and now they're doing a show. Matt and I get to the show and the band goes on and they're really good. Post rock, prog, instrumentals. I't always cool to hear some different styles of music you don' t usually listen to. The music was dramatic my senses were really heightened plus there was a film of protest marchers projected behind the band so it was extra dramatic. I thought it looked like the late 60's Chicago protests except from the signs and buildings i think it was a modern Washington, D.C. protest. It was really compelling, I wish all the people could come together for a peaceful, bountiful world but sometimes it seems like the collective human DNA is hell bent on systematic abuse, corruption, genocide, suicide, vice, and violence. New York City is a great model of all different people with at certain times radically different ideas, beliefs, and faiths and it's not perfect but things seem to work out and people make a reasonable effort to work together, maybe other places are like this as well, I don't know, but if people need ideas about how to compromise and work together they should definitely come to New York. So the next band was Jellybean, a shoegazer band. They had so many pedals on the floor of the stage it was crowded with pedals. There must have been at least 50 pedals on the stage. So they band plays and they do some uptempo shoegazer songs that sounded like Stereolab, although Stereolab isn't shoegaze, it sounded like that nevertheless. A singer joined them for the second part of the set and the band picked up the tempo and the shoegaze and really sounded great with some Serena Manesh sounding songs. After the show the band was giving away CDR's so I got a Jellybean CDR after the show. By this time I knew I couldn't make The Dirtbomb's show so I went with Matt to a party Julie and Nan were at. We tried to get Christie to go with us but she already had plans. Julie told us about a dance/performance she had performed earlier, I was sorry I missed it, it sounded great. Sometimes there is so much going on you miss things and sometimes nothing is going on. So we were listening to X at the party which is cool and then we start listening to a Judy Sill record. I had to ask who it was because it was great and I had never heard it before. Someone told me she was a California singer-songwriter from the early seventies. So there was a copy of Sheila Weller's Girls Like Us on the table and Judy Sill wasn't in the index, that was kind of shocking. When I get home I'm going to look up Judy Sill in the index of Waiting for the Sun.
Isaac Hayes - Joy
With title track Joy, Hayes takes us into the Disco that would soon dominate clubs and radio, which makes makes sense because Hayes soul/funk,r&b extended jams combined with his pleasure as ritual negotiation were destined to be disco. Clocking in at 16 minutes Joy is a fantastic disco track. I Love You That's All is the woozy consummation to Joy's disco party. The Laments A Man Will Be A Man and I'm Gonna Make It ( Without You) and the love song The Feeling Keeps on Coming slows the grooves down to more familiar tempo's and treatments. Impeccable performances and arrangements. Penthouse magazine's Ken Marcus' photography captures the image.