PALEFACE's New Album "Multibean Vol.3" (Bootleg Series) is OUT TODAY
picture: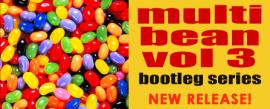 Paleface's "Multibean Vol.3" features 16 songs recorded over the past three decades. The songs have been carefully selected (and sequenced) by PF....from a collection of raw tape home recordings, rough demos, live show performances, and album outakes.
http://paleface.bandcamp.com/album/multibean-vol-3
PALEFACE's Holiday Sale - 50% OFF
Unique & Affordable gift ideas...starting at just $5!
BUNDLES: Paleface's Care Packages / One-of-a-kind packages including signed One big Party CDs with ORIGINAL paintings by Paleface on stretched canvas (various sizes), signed tour posters, t-shirts and more... (starting as low as $15!).
BAG HANGERS, by Paleface: Limited edition, lightweight metal bag hangers featuring art by Paleface. Keep you shopping bags, purses, camera bags, computer bags, etc....clean, safe and at your reach at all times. Free gift velvet puch included (now only $5!!).
We'd like to give you all very warm thanks for keeping up with our updates and for all your support through the years, which means sooo much to us. Very special thanks to everyone who's been sending PF get well wishes, and to the peeps who've been buying Paleface's tunes and paintings. We hope that you keep enjoying the music & art and that they can bring a little bit of sunshine to your life. We really hope to be able to start touring again sometime in early 2012, but that will depend of PF's progress, so please stay tuned for updates...
Wishing everyone a very safe and happy Thanksgiving!
With love,
Mo (and PALEFACE)
For more info:
www.PalefaceOnline.com