Rock 'n Rollers Don't Bathe
picture: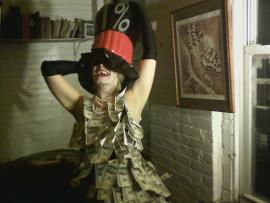 NY you're keeping me busy. Less time on the Facebook and more face-time with new faces. It's shaping up to be a very interesting holiday season. I started a new live sound gig at Bowery Poetry club. Some good stuff happening there. Poetry slams, college band showcases, and all night Goth parties...reconnecting with my youthful passions while getting paid for it. I've had worse gigs. I just sent some questions to the Occupy Musicians website for a RRDB Blog feature. So, stay tuned for that.
In the meantime here's a handful of random snaps from some great shows and events I've attended recently. BTW the picture above is my friend Rachel (Dan and Rachel). This was her awesome "1% Vampire" Halloween costume.
Sprinkle Genies album release show @ The Sidewalk Cafe (12-3-11)

Flare Acoustic Arts League / Juice Box #5 @ Sidewalk Cafe (11-29-11)

Salvation (Goth Dance) @ Bowery Poetry Club (11-29-11)


6 am walk home.

Jeffrey Lewis @ Mercury Lounge (11-26-11)

Myron The Magnificent at Phoebe Kreutz's B-day party.