Rock 'n Rollers Don't Bathe
picture: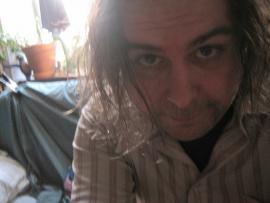 A Poetic Week
I had 2 late nights working at Bowery Poetry Club this weekend. I saw a lot of nice poetry and was lucky enough to witness the debut of Faceboyz Folliez a new variety type show featuring some of my favorite local Art Stars. This is a great chance to check out classic Lower East Side trash comedy and burlesque performance art before the whole neighborhood turns into a Whole Foods.
The MMM solo show at Sidewalk with, Jesse Lee, Barry Bliss, Toby Goodshank (and band) and Brain and The Aardvarks was sort of a reunion show for Barry, Toby, Brian and I. It was about 2 years ago that we did a mini East Coast tour together entitled "The 3 Headed Beast." The lovely and talented Fran Agnone (Ladies of Old Hat) backed me up on percussion. I'm finding her influence on my solo works a real breath of fresh air. Hopefully, we will continue to work together. Here is the original poem from last night's show. I think my new sound gig at the BPC is already starting influence my work (in a good way).
12-07-11
Revolution is a turtle
Inching it's way down the road
Like an occasional long distance long term relationship
A lifetime long lesson learned and learned and learned again
Learning to learn that learned is learning
Sometimes a kick ass 18 wheeler
comes barreling down that long desert highway
full of man juice
it cracks your shell wide open.
Turning your helmet into a bowl
For buzzard foodies and starving young doctors in love.
Growing flowers in dirt filled barrels
Surrounded by concrete
Poured over dirt filed coffins
Asking and answering like pulling up the gate
on a new morning.
Or pulling it down
It's finding that light in the eyes of a lost sheep
When she forgets briefly that she is lost
And starts to grow something
out of the fear and loathing
Her hooves turn into claws
Sifting through the sands of ship wrecked beaches
Detecting the precious metals of our future.
-------
Pics of the week...