Rock 'n Rollers Don't Bathe
picture: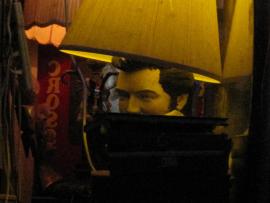 12-11-11: Ladies of Old Hat, Purple Organ, Agent Ribbons, and Kung Fu Crimwave @ Goodbye Blue Monday
It was a chilly night. I was pretty tired due to the fact that I had worked the night before until 4am for a Goth Dance Party at Bowery Poetry club. Nan and I headed over to Chelsea at around noon for to server as extras for a Debutante Hour photo shoot. The theme of the shoot was awkward prom.
Luckily, Goodbye Blue Monday serves my favorite energy drink: Manhattan Special on ice mixed with half and half. I slammed 2 of them and then I was good to go.
Regrettably, I forgot to get a picture of The Ladies of Old Hat. But their set was quite tight, for a Ladies of Old Hat show. The newly elevated speakers at GBM made their absurd vocal styling clearer than usual. The set highlights were a new Preston song about Cake and couple of closing La Boum numbers with visiting Berliner Sibsi Hoffmann. Next up was a very svelte Purple Organ. If I'm not mistaken I thought I heard a couple of newly tweeked tweets and whistles amongst PO's array of gurgling FX pedals. Nice rendition of Squirt (everyone's favorite song about female ejaculation).


Following The Purple Organ was Agent Ribbons, from Austin Texas. I saw them earlier this year on bill with Nan and the One Night Stands. They seemed to have shed their violin player of which, I confess, I didn't miss much. The real highlight of this band is the torch song alto crooning and jangly surf guitar pounding of front woman Natalie Gordon. Though it does appear as though minimalist drummer, Lauren Hess, has stepped up her vocal game in the band. These ladies put on a solid show of bitter sweet cabaret style Indie rock songs about all kinds of loving gone wrong.


Closing up the night was a classic sing-a-longable set by everyones favorite Brooklyn-based brother, brother, sister trash rock band Kung Fu Crimewave.


Tony Tone.


Jo from Kung Fu Crimewave.