Rock 'n Rollers Don't Bathe
picture: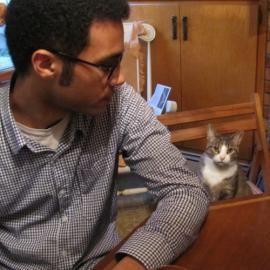 3 Recent Things about Art Sorority For Girls
NYC native Daoud Tyler-Ameen, of Art Sorority For Girls, sent us a little update on his recent goings on since relocating to Washington DC. We are happy to hear he's doing well and super excited about the new album!
1. The debut album is out! It's called Slow Dance, and it's available for the moment as a pay-what-you-wish download. Get it here:
www.artsororityforgirls.bandcamp.com
2. If you're still in New York (or will be for the holidays), I'm playing a little homecoming show at my old stomping ground, the Sidewalk Cafe. That'll be Wednesday, December 21, two weeks from today, on a bill with my dear friends Little Cobweb and Nan Turner.
3. I've taken a little time recently to revamp my web presence. There's a new website, a Twitter feed, and a mailing list — that last one is important, since I'd like to quit spamming the people I love and make these updates voluntary. It's all a work in progress, but please do check it out if you have a moment.