New Schwervon! stuff coming soon!
picture: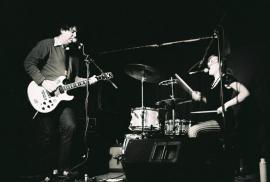 Along with a new website, Schwervon! is finally ready to release some of the flowers that have blossomed as a result of our recent recording tour down south this summer with legendary sound engineer Doug Easley (Sonic Youth, Pavement, Cat Power) in Memphis, Tennessee. The plan is to digitally stream a new song every other week, starting on Friday, January 13th, throughout the months of January, February and March. As if that wasn't exciting enough, the first week of each new song will be available as a free download. So, stay tuned and check in here to stay up to date with Schwervon! and check out some new tracks starting January 13th: http://www.schwervon.com/
In the mean time if you are in the Baltimore area you can catch Schwervon! live this Saturday, January 7th at The Metro Gallery helping to celebrate a new album release for our friends The Degenerettes.