Olive Juice Music Newsletter #3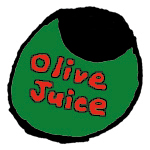 Hello,
Thanks for signing up for the Olive Juice Music Newsletter.
Here's a list of our recently added distro items!
Pendulum - CDR by Dibs
Catalog #: OJD-0304
List Price: $10.00
The fourth solo recording by Dibson T Hoffweiler, Pendulum, surveys the past 4 years of his songwriting efforts. Recorded and produced by Major Matt Mason at Olive Juice Studios, the album presents straight-forward stories, meandering meditations, time-transcendant tales, and some non-sensical non-fiction for good measure. Features accompaniment by Elen Flugge (violin) and Major Matt Mason (bass and whistles). 2011
Eth - 12" Vinyl by DUFUS
Catalog #: OJD-0306
List Price: $15.00
After almost 13 years and 10 full length recordings, Dufus is putting out their final album. This album's production includes Seth Faergolzia's voice and compositional wizardry, a horn section, two drummers, violin, a choir, bass, electric and acoustic guitars, toy piano, accordion, flute, and circuit bent noise instruments. It is our most grandiose and well plotted production. The content addresses a number of ideas including the importance of silence, long time friends, post-child breakups, love, schizophrenia, and profound dream stories. (2010)
Come On Board - CD by Jeffrey Lewis
Catalog #: OJD-0307
List Price: $10.00
Full-length 13-song CD (not CDR) featuring the all-star Jeffrey Lewis/Peter Stampfel band of Anders Griffen, John Kessel, and Spencer Chakedis! 72-year old living legend of NYC folk madness, Peter Stampfel is of course an original Holy Modal Rounder as well as being an early member of the Fugs, and musical collaborator with Gary Lucas, Yo La Tengo and many others. Full liner notes by Jeffrey
and Peter. (2011)
Brooklyn Tea Party Compilation - CDR by SpeakerSonic
Catalog #: OJD-0308
List Price: $10.00
Music not Politics! Brooklyn Tea Party is a house show in Bushwick, Brooklyn. This is a compilation of live performances on a stage in our living room. (2011)
01. Barry Bliss - The American Dream
02. Berth Control - City Don't Care
03. Boom Chick - Cryin' Rooster
04. Brook Pridemore's Gory Details - Celestial Heaven (or Leap of Faith)
05. Ching Chong Song - Madeline
06. Crazy and the Brains - End of the World
07. Huggabroomstik - Chicago Seesaw Massacre
08. Kung Fu Crimewave - Walking Towards the Sun
09. Schwervon! - Swamp Thing
10. The Debutante Hour - Miracle Birth
11. The Everybody Knows - Rabbit Snare
12. The Fools - Big Brown Horse
13. The Purple Organ - The Day I Shit My Pants In the Garden Of the Luxembourg
14. The Telethons - All Hail
15. Toby Goodshank - Track 1
16. Thomas Patrick Maguire - Papertown
17. The Wowz - Light In the Wake of Love
18. Yaya Herman Dune - Magician
Elephant Shoe Vol. 2 - (a zine by Olive Juice Music) by Olive Juice Music (label)
Catalog #: OJM-0061
List Price: $1.50
The second installment of the on going saga of the NYC D.I.T. music community. Released the summer of 2010. Includes original artwork by Jeffrey Lewis, Preston Spurlock, Rahim KN, Dennah Vollmer and Jack Lewis, free advice by Betsy and Neil, OJ crossword puzzle and family tree by Solena and original poetry by Nan Turner and Thomas Bayne and much, much more...
Stripes and Plaid - CDR by Trevor Jude Smith
Catalog #: OJD-0310
List Price: $5.00
Stripes & Plaid, Trevor's second full-length record, is jam packed with funky, folky, and fresh tunes with Tom Feldtmose on bass, and Kenny Cabell/David Bender on drums. Stripes & Plaid also features Josh 'Kimchee' Park and Danny Robin on guitar, Toby Goodshank on vocals/whistling, and Major Matt Mason USA, Rachel Trachtenburg, Julia Cumming and Brian Fitzsousa on backing vocals. (2011)
Follow Me - CD by The Debutante Hour
Catalog #: OJD-0311
List Price: $5.00
Three women wielding accordion, cello, drums and occasional bari-uke harmonize the hell out of everything from TLC to The Cars to The Ronettes. Ukrainian reggae too. If this EP had legs, they would definitely be wearing fishnets. (2011)
TMKP 2.5 Alive On Vinyl- 10" Marbled, Color Vinyl w/ download code by Joe Crow Ryan
Catalog #: OJD-0312
List Price: $10.00
New York's favorite subway performer settles into the studio for a handful of unique re-interpretations of classics by the likes of Tom Waits and Bob Dylan. That's not to mention a few pop standards and a brand-new version of his own popular favorite "Crossing The River Again." The 10" marbled, colored vinyl comes with a code for high-quality download. (2011)
Check out the OJ Events Calendar to find out about live performances of your favorite OJ distributed artists: http://www.olivejuicemusic.com/calendar
Express yourself on the Olive Juice Music Forum: http://www.olivejuicemusic.com/forum
Thank you for supporting real independent music!
http://www.olivejuicemusic.com/
OJ