Olive Juice Music Newsletter #4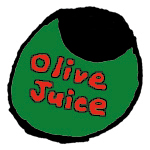 Hello,
Thanks for signing up for the Olive Juice Music Newsletter.
Here's a list of our recently added distro items!
Horse (Purple-Blue on Green) - T-shirt by Schwervon!
Catalog #: OJM-0062
List Price: $15.00
Screen printed by hand on the kitchen table of Schwervon! head quarters. (American Apparel, green w/purple-blue writing, 100% cotton, short sleeve, crew neck). Available in Adult Sizes: Small, Medium and Girls Large.
Fuff Four Pack (#5,#6,#7,#8) - Comics by Jeffrey Lewis
Catalog #: OJM-0063
List Price: $9.00
Fuff four-pack deal: four for the price of three! Order all four available issues of Fuff, issues 5, 6, 7 and 8, and pay only $9! That's over 100 Jeffrey Lewis written and drawn comic pages of European travels, Stories My Dad Tells, time travels, Madonna, Macbeth, masturbating superheroes, sitar-playing clams and more! Available only while supplies last.
Volume 1 - CDR by Barry Bliss
Catalog #: OJD-0313
List Price: $10.00
Part of a 4 volume set of a lot of the songs that Barry Bliss wrote and performed from 1994-2011. Each volume contains newer songs and older songs. All the songs were ordered rather randomly. When you see the "(2011)" it means these are the 2011 versions, most likely with different lyrics than earlier versions. All the songs were recorded in 2011 at Olive Juice Music studio. Barry asked photographer Scott Gordon to take photos of certain things and these photos make up the covers. "Barry wrote this in third person".
Volume 2 - CDR by Barry Bliss
Catalog #: OJD-0314
List Price: $10.00
Volume 3 - CDR by Barry Bliss
Catalog #: OJD-0315
List Price: $10.00
Everything Is Alive (EP) - CDR by The Purple Organ
Catalog #: OJD-0316
List Price: $5.00
Produced by Kyle Boyd and the Purple Organ at famous Headgear Studio in Brooklyn, NY Copyright Tripple Nipple Records (2010)
Blood Pie - Cassette (w/mp3 download code) by The Victorian English Gentlemans Club
Catalog #: OJD-0317
List Price: $8.00
BLOOD PIE. A YELLOW CASSETTE OF 16 DEMO versions, PREPARATIONS, UNRELEASED SONGS, DURGE REMIXES AND STRANGE THINGS related to our third album, bag of meat. 16 SONGS, 40 MINS. WE RECORDED THESE SONGS OURSELVES IN A KITCHEN AT LOW VOLUME AS NOT TO UPSET THE NEIGHBOURS. IT COMES WITH AN MP3 DOWNLOAD FOR TWO 20 MINUTE MP3S: SIDE A & SIDE B.
Hallo. Warten. Danke. - CD by Containerhead
Catalog #: OJD-0318
List Price: $10.00
Their first album released in March 2011. This is not something for the pop charts, yet you might just find yourself reaching for this again and again to help soundtrack your day. I do.
Check out these OJ supported tours this Summer!
SCHWERVON! SOUTHERN FRIED SUMMER FUN TOUR
Aug. 17 - Danger Danger Gallery (Philadelphia, PA) w/ No One and The Somebodies, Ghost/Light, & Caboder
Aug. 18 - Charm City Art Space (Baltimore, MD) w/ strange fur, south carey
Aug. 19 - Bazaar Consignment (Roanoke, VA) w/ Uncle Bengine & the Restraining Orders, Elephant Child
Aug. 20 - The Lab (Asheville, NC) w/ Her (ruined majesty), The Ringing Cedars
Aug. 22 - The Hi-Tone Cafe (Memphis, TN) w/ The New Mary Jane (ex Grifters, Those Bastard Souls)
Aug. 25 - Cafe Coco (Nashville, TN) w/ Dave Cuomo
Aug. 26 - Acoustic Coffee House (Johnson City, TN)
Aug. 27 - Back Yard House Show (115 East Maynard Avenue, Durham, NC) 4-9pm w/ Wigg Report, Joy In Red, Charles Latham, & Sequoya
Aug. 29 - Galaxy Hut (Arlington, VA) w/ Greenland
-------------
Jeffrey Lewis & The Junkyard SUMMER UK-EUROPE
Wed, July 27 - DRESDEN, Germany - Blaue Fabrik
Thurs, July 28 - BREMEN, Germany - Spedition
Fri, July 29 - DARMSTADT, Germany - Oetinger Villa
Then on to the UK....
Sat, July 30 - LIVERPOOL, UK - The Static Gallery
Sun, July 31 - EARLY show in PRESTON, UK - The Mad Ferret, 12:45 pm (buy tix here).
EVENING SHOW: Jeffrey Lewis & The Junkyard play at INDIETRACKS FESTIVAL in Derbyshire, UK! (With Herman Dune and many more)
Mon Aug 1 - SHEFFIELD, UK - The Harley
Tues Aug 2 - LONDON, UK - The Lexington (SOLD OUT)
Wed Aug 3 - OXFORD, UK - The Cellar
THEN Jeffrey Lewis & The Junkyard are planning an August tour of CHINA!
Fri Aug 5 : Nanjing - 61 House
Sun Aug 7 : Rizhou Festival
Tue Aug 9 : Xian - Aperture Club
Wed Aug 10 : Zhengzhou - TBC
Thu Aug 11 : Beijing - Yugong Yishan
Fri Aug 12 : Wuhan - Folk Hand
Sat Aug 13 : Shanghai - Yuyintang
Sun Aug 14 : Ningbo - ChenMenKou
THEN Jeffrey and Jack (no Dave) continue on to South Korea tour dates:
Thu Aug 18 : Daegu, South Korea (venue tbc)
Fri Aug 19 : Busan, South Korea (venue tbc)
Sat Aug 20 : Seoul, South Korea - Freebird
Check out the OJ Events Calendar to find out about live performances of your favorite OJ distributed artists: http://www.olivejuicemusic.com/calendar
Express yourself on the Olive Juice Music Forum: http://www.olivejuicemusic.com/forum
Thank you for supporting real independent music!
http://www.olivejuicemusic.com/
OJ