At home He's a Tourist
picture: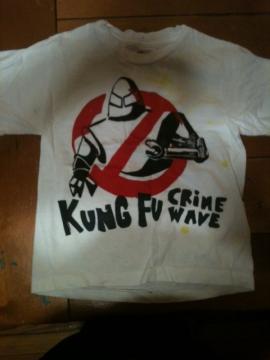 So it was another Saturday afternoon I was wrapped up with another week of work so I called Matt to see what he was up to. Matt told me about two shows; the former a Steam Punk show, the second Rachel and Dan, The Fools and Kung Fu Crimewave at BTP. I was sure I wanted to go to BTP but I had never heard of Steam Punk before so I had to ask Matt to tell me about it. Matt told me Steam Punk is when people dress up in turn of the century ( 1899-1900 ) outfits, with turn of the century songs and instruments mixed in with more standard punk or postpunk outfits, songs and instruments. I was shocked because I'v heard of so many bands like that; Go-Go Bordello, Thomas Truax, and Arcade Fire. I felt like a lazy reader because I have read tons of articles about these artists and didn't remember the term Steam Punk. Anyway Kung Fu Crimewave have a sound I truly love ( shambling antifolk) so I knew we were going to BTP and we did.
Thomas Patrick Maguire - Corporation Town EP - released in 2009 on luv-a-lot records, Corporation Town serves as an advance preview to the recent release Temper Tantrums Cause Delays. The riff from Worn Clothes could come directly off a Patsy Grace track, with vocals like unplugged Kurt Cobain. The self-depreciated Invitation to Leave churning acoustic guitar and ascending keyboards could be a demo from Prewar Yardsale's We are Singing a Sad Song. Divorce Man closes this great EP with an understated intensity that runs throughout.
So I get to BTP and I find a chair to sit in which is good because a lot of people sit on the floor and it's really uncomfortable for me to sit on the floor for a whole set, I think I need to do yoga. So Dan and Rachel played first, they were really good. I've heard Dan play different in like an organic progression way. First I saw him play solo guitar and piano, then I saw Dan and Rachel where Rachel sang, played keyboard or percussion on some songs. This time Rachel played full on drums ( standing style), keyboards, percussion, and singing. They played really great, you could tell they had been touring a lot because they were really tight, they did not miss a beat. They are going to go right back out on tour so I'm sure they will even be better next time I see them. They didn't play the Banana Song, which might be the funniest antifolk song ever written, but it was better that way because they were so good if they played for laughs it might have been a distraction. After the show I told Rachel my standard touring band joke, " Prewar Yardsale will totally open up for you guys, our rider and guarantee are really reasonable, awesome, no problem". She was being nice, or charitable, or both because she actually laughed.
Thomas Patrick Maguire - Temper Tantrums Cause Delays - A new CD from Weemayk produced by Brian Speaker and recorded at BTP, Temper Tantrums Cause Delays has Thomas Patrick Maguire more slick and polished. Drums and bass are added to the re-recorded songs CorporationTown and Worn Clothes originally from The Corporation Town EP. Drums also propel the compellingly urgent The Losing Bout. Desperation fills the CD as losing, divorce, goodbyes, Dyslexia, and drunkenness punctuate throughout, the track I Am Not An Elitist is no self-depreciating joke, it's the real deal. Despite the desperation, the CD moves at a churning, even pace, Maguire's ability to combine catchy melody and catchy turns of phrase, along with Doug Johnson, Jon Sebastion, and Brian Speaker on minimal but dead on drums, bass, and organ keep the proceedings moving along ominously. A Midnight eye for 2011, terrific.
The Fools played next and at this point I was helping to tend rab. Dan and Scott were back behind the rab serving while I cajoled the sremotsuc to leave spit. The Fools were quiet and great as usual. Kung Fu Crimewave were next and they are one of my favorite bands, I love their antifolk shambling style, Joanna and Neil push them past toe-tapable right into dancable, while Luke and Preston add guitar and keyboards. Great songs as well, always a fun show.