Rock 'n Rollers Don't Bathe
picture: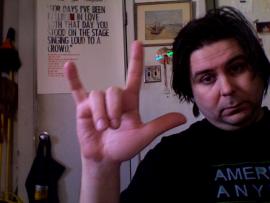 10-05-11
Rubber band.
Rubber brand.
Blubber bland.
Lubber land.
Rubber band man.
Blubber man band.
Lubber lamb bland.
Lover land. Love her land. Land lover.
Love lover.
Lover of love.
Lovers of loves
Rubber of rubs.
Rubber of rubbers.
Rubber of glovers.
Glover of Dans.
Lover man.
Love ban.
Love gland.
Love roller.
Stealer of covers.
Cover of others.
Other of others…others…others…lovers
Occupy covers.
Hover abovers.
Occupy others.
Occupy occupiers.
Occupy occupations.
Patience…patience…patience.
Patience occupations.
Occu pay.
A kill you-paaaay
Ffffuckin…pay you.
Pay…pay.
Paaaay shunts. You.
Ahhhh…ahhhhh…ahhhhhhhhhhhhh
Bluuubb…..Bluuuuu….bleeeeeeeee….d.
Bleeeeed. Oooon you.
Bleeeeeeedooooon….
Ooooooon.