Rock 'n Rollers Don't Bathe
picture: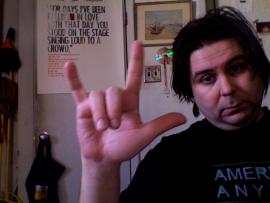 Comedy, New Schwervon! Stats., WTF
My friend Soce asked me to perform for a "First Timers" comedy hour this Monday night. I will be performing 5 minutes of original comedy material. It should be interesting. I've always been fascinated with Comedians. I have a lot of respect for them. I've been doing these "day of" poems at my Major Matt shows so in a way I feel like I've been feeling myself moving in that direction. I'm not saying that I'm going to be making any career changes anytime soon but I feel like preparing to entertain a room full of people for 5 minutes with nothing but your brain has been kind of therapeutic (and kind of terrifying). Should be interesting to watch at the very least. There will be a handful of others performing. It's at: Bedlam
40 Ave C, New York, NY 10009. Here are the FB details: http://www.facebook.com/events/274809825914868/
------------
Thanks for the people who checked the new Schwervon! track last week. 124 people download our new song: Truth Teller absolutely free. The next week long free download will be available Friday, January 29th right here: http://www.schwervon.com/ Also, we've got this fun show coming up:


------------
Nan turned me on to the Mark Maron podcast: WTF. It's pretty great. I like the idea of the podcast format. It allows people to talk as much as they want with no commercials. Here's one I just listened to with Henry Rollins.