Yesterday's Blog Today
picture: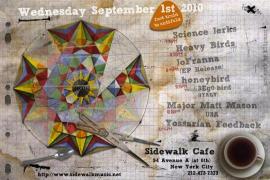 I think I'm suffering from post New OJ website depression. I'm a bit uninspired which isn't so great considering I've got a show tomorrow night at Sidewalk cafe. Insert shameless self promotion here. I'm taking most of the day tomorrow to practice and work on a good daily poem. I'm excited for the JoFranna CD release and also interested in checking out Honeybird of whom I made a random myspace connection with about a year ago. I'm munching on some discounted "red" kale that I picked up at the Co Op last friday and I'm digging it. It's not as sweet as regular kale and I kind of like that. It tastes more like spinach. I realized that pretty much any of it tastes good as long as you steam it and mix enough salt and pepper with it.
=============
Luckily, business has picked up so I can distract myself from my depression a little. I also have a strong feeling that I need to get the hell out of NYC for a while but I can't seem to figure out a way to do it. Someone remind me next year to try and get out of town for the month of August.
=============
Yesterday was a long day. I started mastering an hour long compilation for the Brooklyn Tea Party. Brian Speaker (the head honcho at BTP) has compiled an 18 song collection of live recordings that have occurred there throughout the years including: Barry Bliss, The Wowz, The Everybody Knows, Schwervon!, David Herman Dune and lot of other cool stuff.
My night shift was a vocal recording session with Daoud from Art Sorority For Girls. We have one final record session scheduled this evening and then the rumor is that we are done tracking and on to mixing. This album has been a real beast (well, kind of a beauty and the beast). It's taken nearly 2 years to record (on and off). But I'm really excited about how stuff has turned out. It's rare that I'm given an opportunity to become so familiar with the sounds on a a project and I feel very grateful for it.
=============
Mixing with Sam James during the day today!
=============
Upon proof reading. I only had to delete 2 "reallys" from this post. Are there more? A think "a bit" is my new "really."
http://matthew-roth.livejournal.com/