Major Matt asks Dibson T. Hoffweiler (Dibs, Urban Barnyard, Old Hat) 5 questions (#8)
picture: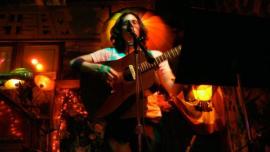 1. How did we meet?
In 2002, I went to the Sidewalk Cafe to see The Babyskins and Barry Bliss, whom I had seen open for the Moldy Peaches at the Bowery Ballroom. I thought I needed to be there for the whole night, so I showed up at 7:30 and saw some guy play some songs. Over the weeks, I came to learn he's the one who runs Olive Juice Music.
Being the young, motivated self I wasn't, I talked to Matt about interning in his studio. At the time I wanted to learn more about recording, and I thought that doing some work with Matt would be a good way to do that. Matt had me over for a recording session with Karen Hancock/Knot Pinebox. I realized that I wanted to learn about recording, but I had few projects to apply those learnings to. I never followed up.
So! That's how Matt and I met, but we really got to know each other starting in 2006 when we worked together for the OJ All Day festivals. We collaborated on the festival websites for three years. Most recently, we've had a work exchange - this OJ website for recordings of my songs. The trade completed the circuit of desire I opened eight years ago - recording with Matt brought me to a better understanding of how I should be recording myself in the future. I just had to be patient.
2. 3 things that make you happy?
Spending time with people I like.
Understanding my thoughts and emotions.
Learning something new.
3. 3 things that make you sad?
Missing friends in New York.
A racing untamed mind / not knowing where the time went.
An unchanging situation gives me a terrible sensation.
4. What is your favorite color?
Green. I like purple too though.
5. 3 people who inspire you?
The list is long. The list lengthens. Most recent additions: Ursula K LeGuin for writing that brings me to feel emotions strongly. Guitarist John Fahey for guitar playing that is both mystifying and mystifyingly simple. Pythagoras for making numbers cool again and reminding me of what Sibsi once said at a show: "I think we should remember what we do."