Major Matt asks Josepha Conrad (Susie Asado, Crazy For Jane) 5 questions (#9)
picture: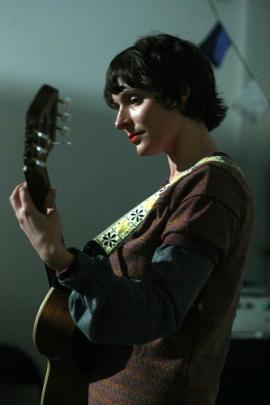 1. How did we meet?
We met at the "We Are Fucking Independent Festival" in Cologne in 2005. You and Nan (Schwervon) played and Kimya Dawson and Matty Popchart and I was there with my brother Philipp. We had just started performing as Crazy for Jane and we were so excited to meet you guys.
2. 3 things that make you happy?
1. Singing songs with friends, family and or strangers
2. Taking walks in the park
3. Drinking Green Tea
3. 3 things that make you sad?
1. The poverty that I encounter everywhere
2. The state of the environment
3. War
4. What is your favorite color?
Green - moss green - the luminous kind
5. 3 people who inspire you?
1. Gertrude Stein - the way she lived her life and work so fully, with conviction and humor. Her ability to keep writing her strange world of writings without getting distracted by others not acknowledging her world, even ridiculing her.
2. My brother Philipp - his ability to summon helicopters and go on grand adventures that I would never dream possible.
3. My father - he seems somehow bigger than life, in his world everything is possible. There is hard work and there is humor and always a guitar and great cowboy songs.
http://www.susieasado.com/
http://www.olivejuicemusic.com/artists/crazy-jane