HOW TO ACT BAD, a film starring ADAM GREEN
picture: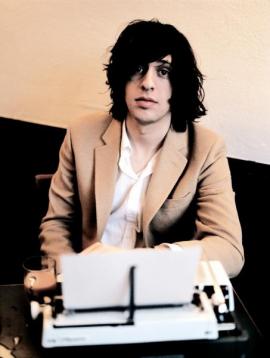 For the past year filmmaker Dima Dubson has been following musician and friend Adam Green around New York, Los Angeles and Europe documenting the life of this cult music troubadour. HOW TO ACT BAD will bring you up close, and offer an intimate portrait of the singer/songwriter, artist, rock star and human being Adam Green, from Dima Dubson's unobstructed perspective.
The film will reflect the excitement and artistry in the creative life Adam is living - from his music to his paintings and sculptures to his current filmmaking project (known as "The Lake Room Movie" starring Macaulay Culkin, Devendra Banhart, Jack Dishel and Dev Hynes among others). HOW TO ACT BAD will also offer a candid peek into Adam's personal life and show him both alone (as alone as he can be in the presence of Dima and his camera) and with his friends.
HOW TO ACT BAD is a film about an endlessly creative person as generous with his virtues as he is with his faults, all of which make him a most fascinating subject.
About Adam Green:
A New York native, Adam first became known along with Kimya Dawson as the co-founder of The Moldy Peaches. Since, he has gone on to have a successful solo career, spanning six albums, with hundreds of tours. Earlier this year he achieved notoriety as a visual artist, having his first art show at the Morrison Hotel Gallery in New York City (http://bit.ly/9P6sqt)
Your generous contribution to this project will be greatly appreciated and will go toward the ongoing simultaneous production and post-production of HOW TO ACT BAD. While the goal for this campaign is set at $20,000, we are looking to raise as much money as possible in order to have the resources to make the best film we can. An Executive Producer credit is also available in return for a significant contribution to the film's budget - please contact with any interest.
http://www.kickstarter.com/projects/dimadubson/how-to-act-bad-a-film-sta...
(This text is from the Kikstart website for this film)