Goodbye Blue Monday December 10, 2010
picture: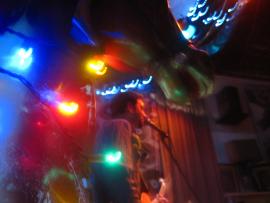 Last night's Purple Organ curated event at Goodbye Blue Monday featured a nice line up of the usual suspects. GBM's recent facelift (word has it they're gonna start serving brunch soon) and a new interested in photography created an excitement for me, personally, to check out this bill of old friends. I forgot to get shots of the opening mini open mic which featured a few acoustic numbers by Purple Organ, Neil Kelly of Huggabroomstik, Toby Goodshank, and Joe Crow Ryan.
The first act of the night was The Fools. I feel like this pic kind of captured how I see The Fools. They are 2 individuals seamlessly in sync, both understated and complimentary, but shining in their own way.

The second act of the evening was Cornhole Connection: An on going experimental improv group centered around the whims of Julie LaMendola (Ching Chong Song) and Nan Turner (Schwervon!)

Next up a rock hard solid set by Mr. Toby Goodhshank, complete with a little impromtu audience participation by a very drunk woman.

This was followed by a, quite literally, rocking set by Berth Control. Their new drummer is kind of off the hook!

Next came an uncharacteristically focused and dare I say "jazzy" set by Huggabroomstik. New bass player alert (Not pictured here because there was not enough room on the stage. He was actually standing right next to me while I took this picture).

The night closed out with an especially spirited Purple Organ set that got my blood nice and warmed for the chilly wait for my train ride home!


Good times!