Vincent Nifigance Session for Manchester Scenewipe
picture: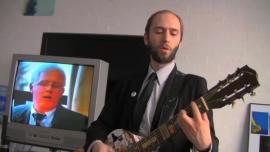 Manchester Scenewipe is the passion project of Toby & Sam who harrangue established acts passing through our city to do acoustic sessions which are then wedged between videos of other, lesser-known local acts.
In November I filmed a song for them in one of the classrooms of the Photography Department of Manchester Metropolitan University.
Sam & Toby have claimed many an illustrious scalp, but 'the one that got away' is Jeffrey Lewis!
Interesting Story: Any missed opportunities? Anything you regret?
Ahh, regret…(sighs whistfully)…Just one springs to mind; We had a session with Jeffrey Lewis lined up last year, we had been looking forward to it for so long. We got to the venue before sound check and were asked to wait. The sound check ended up taking 3 hours because Jeffrey and his brother/bassist Jack were having this ridiculous fight over a delay pedal. The fight escalated into a brawl on stage, there was biting and hair pulling and everything. it was unbelievable. Once they finished we were told we would have to do it after the show, and even this offer didn't seem certain. We were knackered and pissed off and decided not to go back. in hindsight we really wish we'd done it. We don't flake often, but we're gonna have to live with that one.
Vincent Nifigance from MCR Scenewipe on Vimeo.