At Home He's a Tourist
picture: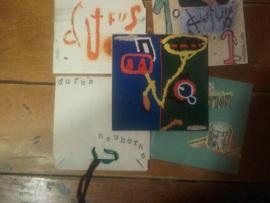 So I was meeting Dina and Matt at OJ Central to start rehearsals for our upcoming show at BTP. I think Brian is putting us on a bill with Kung Fu Crime wave. Brian told Dina he wasn't doing Mars Chronicles right now so they're not going to play. Oh well, maybe next time. I love that band. The rock show we were going to play got canceled when Sidewalk closed for renovation. Oh well, maybe next time, I feel bad for Bernard because he already paid us on our guarantee and now the show's not going to happen so he's going to be really in the red on this one. I guess I really should give him back the money. Oh well, maybe next time. So I bought a six pack of red stripe beer because it makes me remember how cool Jamaica is and I thought it would be cool to drink some beers during rehearsal. So I get to OJ Central and even thought it's still office hours the front door is locked. So I think O.K., it's Saturday, it must have been a slow day and Matt being a cool boss probably let the staff leave early. So I call him up. No answer. I call Dina. No answer. So I'm standing out in front of O.J. Central by myself with a six pack of red stripe. I decided to drink a red stripe while I waited. Unfortunately red stripe beer needs to be opened with an opener and I didn't have one. I call up to O.J. Central. No answer. I was lonesome so I started asking passer-bys if they had an opener. No one did at first but two guys stopped when I asked and one of the guys asked me if I had a lighter. I didn't have one but I said maybe your friend does because he was smoking a cigarette. He did. So the first guy made a lever out of the lighter and popped the cap. I told him thanks and I would always remember that amazing feat, he said cheers and they left. So I drink the red stripe and I"m thinking oh well, maybe next time, when a cab whirls around the corner and out gets Dina. Dina said she just talked to Matt and on cue the front door opens and there's Matt. So we start to rehearse and Dina and Matt ask me what what I want them to play and how should they play it. I told them to play whatever they wanted, it's just a rehearsal, I'm not in charge and let's just have some fun. So we start playing and Dina is playing Bongos and Casio and Matt is clapping, playing tambourine and .... oh yeah, guitar. So I'm thinking I'm gonna have to do my Anton Newcombe personality and start bossing them around because it sounded terrible. So on our next run through of the songs I start changing the tempos on the songs. Matt and Dina are like we can't change the tempos because we like them the way they are. So I say "But I thought you guys wanted me to ... o.k., well keep the tempos". So we kept the tempos and I started writing a new song for the band called Passive Aggressive, so I picked up my copy of the new Dufus recored that night and this is a selected Dufus discography:
Advance Sampler EP - starting with the jazz tinged More Girl Cops, a heavy metal funk workout to the country psychadelic boogie for homespun transcendence of Land Ho! and Deemon Inniz to the ska of Little Bitta Reggae ( I don't know if Spencer played on this but you could hear Thems Good Eatin lifting this sound) combined with Seth's gospel of truisms makes this EP a microcosm of the Dufus infintycosm.
Dufus 1:3:1 - A truly amazing up-tempo dance record which brings reggae, funk, psych, noise, metal, and antifolk to a party that still hasn't stopped.
eth - Richly recorded by Mark Osporvat at Emandee, eth is an intricate record of orchestrated chamber antifolk with a Purple Organ vibe. Seth ruminates deeply on family, identity, and perception.
Neuborns - A Pro Anti release, Seth and the Dufus Choir announce they're Having a party and your invited, and what a party it is! Dancing with the Devil, Baboons, Gummybears, God, and the Neuborns. Spin Neuborns at your next rave between Dan Deacon and Tame Impala. Neuborns is neo-rave at it's most blissed out.
This ( Dufus) Revolution - Experimental and pop at the same time, this rocking song cycle is heavy both musically and lyrically. Enlightenment, revolution, and unity are the themes.