At Home He's a Tourist
picture: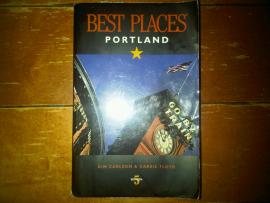 Dufus - Eth
The quiet psych-folk intro of Silence is brought back to mournful folk-rock Smiths style lament. Brass punctuates signature stacatto Dufus rhythms and choral for the hopeful and stirring Feed the Baby. A psych-folk mood permeates the record in cuts dastard, gracious host, life is empty, and old friends, ripple and reflect an early 70's drop songwriter/vocalist/guitarist Seth Fargolzia pipes are in form form hitting falsetto highs and Calvin lows with ease. Impeccable bass, drums and acoustic guitar set the record on understated solid ground for perfectly suited wind instruments, electronic effects (guitars?), brass, and backing vocals to embellish. Dufus brings community together to fight the emptyness of fashion with an anti-fashion belief in life, love, and family.
Portland virtual vacation
Upon landing in Portland I was too early so I was listening to Self-Portrait which I listened to on the TV in the hotel room. Hotels are great, they are standard but their intricacies make hotel stationary always relevant. I was glad I was early because I got a chance to get to the Pox Pop Now! 2010 Festival in time to catch openers Tope and Epp with Illmaculate. With a great post modern hip hop sound , old style scratching, later sounding beats, and new style mix of vocal delivery and keyboard. I started to worry that might be the best part of the festival and maybe I should leave but I decided to stay. I mean it was 1:30 in the afternoon on friday so why not? Next up were another great band AgesandAges, they had a drummer, bassist, guitarists and a lot of vocalists doing homestyle 70's country folk. THey were great, country folk blues. Very now. So that's always cool and impressive. Next up was a great new wave band Nucular Aminals. New wave is a wide range of music, N.A. were psychadelic guitar oriented new wave, and which is my favorite new wave and they were really good at it as well. At this point I was speechless, 3 acts and 3 amazing shows. It was curated so great too, all styles performing on the same night, it's true if the bands are great you can really mix and match their styles and you don't have to have genre shows. Which are always great as well, but the plauralist
bills can be really refreshing. To keep the plauralism going a brit-pop style band played next. Paper/Upper/Çuts were upbeat and catchy, you know brit-pop is good friday night music, and for friday night in a club it's perfect. Paper/Upper/Çuts were really good. The music is familiar and well played and the band really infused their own style into it. The singer and lyrics were great. Four great bands in I was really tired and I wanted to stay but I knew there were going to be a ton of bands all day Saturday and Sunday and I didn't want to burn out on Friday night and have to sleep in for a Saturday recovery so I decided on some fast food (good luck in Portland) and hotel cable. My hotel is close to the venue so I can't get lost even though I'm new to the city. So I'm on my way home and I stumble into the greatest crepe fast food cart. So I got a bunch of crepes ( some swedish meatball, some chocolate) and some soda. I ate the crepes and drank the soda while I watched a B- melodrama on Lifetime. Portland staycation to be continued...