Rock 'n Rollers Don't Bathe
picture: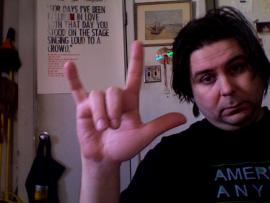 The Sidewalk Cafe (MMM show poem 3/7/12 @ Sidewalk Cafe, NYC)
It was never my intention, growing up in Kansas, to live in New York. I remember just one time, as a kid, drawing a picture of me in the future. I was wearing black boots and long black trench coat. It was something like a cross between Robert Smith and The Crow. I had long stringy hair and pictured myself walking through some dark rainy alley in a city that I imagined was New York City. That's when I made the decision that I was more of dark vs. light kind of guy. This had nothing to do with morals mind you. It was kind of more of an aesthetic decision. It's made all the difference in a way. But other than this memory, for 24 years I don't recall a particular attraction towards New York aside from the girl that I followed here.
I also never had any interest in being a song writer. At best a punk rock guitar player was the closed thing I had to a passion. But when the relationship I moved here for fizzled I had to do something. I studied creative writing and poetry in college, because it was the easiest thing I could think of, but I didn't really have the guts to try and be a poet. It was never my intention to write songs. But then I came here. It served the purpose as a distraction from a broken heart that slowly melded into a compulsion and soon became a full on life consuming addiction.
Covering my rent got me out of bed every morning but it was the Sidewalk Café that kept me from rushing home at the end of my work day and diving back under the covers. I've met a lot of friends here. Many are gone. Here is where I discovered my true loves and even in some miraculous way managed to combine them into a life. The Sidewalk café was the first church experience that I looked forward to going to. And like most religions I've found inspiration, solace and even betrayal in her.
For 2 months now Nan and I have been slowly dismantling the pieces of our lives in preparation for a life more focused with less stuff and hopefully more joy. It seems like with every facelift New York gets the more I want to peel away and simplify myself. And like a big 41 year old baby leaving the nest I feel like she's kind of been nudging me that way for some time.
I think it's important to take a second and remember that it's music that brings us all here. I've dedicated a lot of my life to the more tangible aspects of music…the attempts to capture it and archive, to share and inspire with it. But luckily what is truly great about music has nothing to do with any of that. The strength of music has always existed in this mysterious space between it's source and your brain. It's value can never be accurately measured. It comes and goes like the wind. It is a language that everyone understands. I get really sad when I think about not seeing all of my friends as much as I'm used to. But once again that's where music saves me. Because regardless what the future holds we will always have the music of each others songs in our hearts.