Schwervon! Send off Show!!! @ Big Snow Buffalo Lodge TONIGHT!
picture: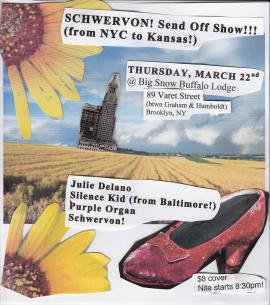 Schwervon!'s Send Off show!
(from NYC to Kansas!)
THURSDAY MARCH 22nd
@ Big Snow Buffalo Lodge
89 varet street
(btwn humboldt & graham)
Brooklyn, NY
$8, doors at 8pm, Nite starts 8:30!
8:30 Julie DeLano (of The Leader) and "Gold"
9:15 Silence Kid (from Baltimore)
10:00 Purple Organ
10:45 Schwervon!
(Some of the proceeds of the night will go towards Schwervon's moving expenses!)
http://bigsnowbk.tumblr.com/