Rock 'n Rollers Don't Bathe
picture: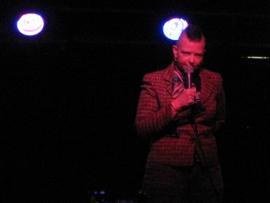 Weirdo Wednesday Supper Club @ Davey's Uptown, KC (4-18/23-12)
April 18th: Diamond Dan, Victor and Penny, Ryan Donegan
Weirdo Wednesday is a weekly supper club hosted by local personality/multi-instrumentalist Amy Ferrand at Davey's Uptown in Kansas City, MO. The vibe at Weirdo Wednesdays is probably the closest I've come to the cabaret/ "anything goes" type atmosphere that I grew to love at places like the Sidewalk Cafe's Open Stage and Show & Tell at the Bowery Poetry Club in NYC. Davey's Uptown is a Kansas City Institution. You can smell the history as soon as you walk in the place. The wood paneling and vintage pinball machines make it an ideal spot for happy hour locals. The other half of the bar (formerly Jimmy & Mary's Steakhouse) opens onto a sizable performance space with a back bar and a nice PA and stage.
Dawning a Mohawk, combat boots, and constant ear to ear grin, Ferrand is the perfect MC/ring leader for the night's shenanigans. At the top of the evening she announced that, due to some confusion, Ryan Donegan would only be performing a single twenty minute set. "We'll figure something out for the other set," she said with a wry smile. I feared perhaps my first impression of Weirdo Wednesday would be somewhat compromised. Luckily, the first act, Diamond Dan, was not going to let that happen. Now, I've seen a burlesque act or two in my day that has been in the, shall we say, twilight of his or her years. But I've never seen one as perky (and fit I might add) as Diamond Dan. DD's first of three routines consisted of appearing on stage in full Scottish formal wear. To a backing track of bagpipes, he regally disrobed down to nothing but his Union Jack shorts and pith helmet. Jolly good sir!

The next act was a peppy duo who call themselves Victor and Penny. Victor: a Jazz guitar virtuoso /Ira Glass look-a-like and Penny: a uke strumming dead ringer for Parker Posey are an NPR Music lovers wet dream. They effortlessly slammed out dead-on renditions of antique pop hits from the turn of the 20th century.


Next up was Ryan Donegan, a somewhat shy and unassuming fellow. His voice reminded me of a young Neil Young with a bit of a Nick Drake whisper on the side. The songs seemed perfectly suited as lullabies for his newborn baby, who was rumored to be in the audience that evening.


Mid show dinner break: A delicious veggie mix of spiced carrots, potatoes and cauliflower with a pita and side of greens. A great deal for just $5. De-Licious! The second half of the night is basically another cycle through of the performers. Diamond Dan did 2 more routines. One was accompanied by a Leonard Cohen song while a sexy dinner date (with her back to the audience) watched on stage as DD worked his magic. The final number was a classic Elvis impersonation.


Who hasn't fantasized about a stripping senior citizen Elvis? Sorry about the blurry photos. DD doesn't stand still for long.


For their second set, Victory and Penny were proficiently joined by host Amy on the toy drum kit.

April 23rd: Dave "Chilidog" Crawford, Romany Jewel, and Crazy Boy Coy
Nan and I enjoyed Weirdo Wednesdays so much we came back the very next week. This time we discovered the $8 PBR pitcher so we managed another great night out for two, meal included, for under twenty bucks. If there's anything I love more than free weird entertainment it's healthy cheap eats! (Do I smell a couple of future regulars?) There was an especially fun party atmosphere in the air. It just so happened to be host Amy Ferrand's birthday show. This nights first act was: Dave "Chilidog" Crawford. Resembling a young Frank Black, his repertoire consisted of blue, bar-room, joke-folk tunes ranging in subject matter from the sexual virility of hippy-girls to rock stars that clean up and then drop dead.


Next up was burlesque performer Romany Jewel. I found Romany to be my favorite kind of burlesque entertainer, able to use her "assets" in a playful way, while not failing to forget that the real power of seduction is all in the eyes.


Next were the juggling antics of black and red, new primitive ear ring sporting Crazy Boy Coy! Crazy Boy pulled off some amazing feats on a very dimly lit stage. I have to admit half of what made his act so compelling was the amount of times he would drop things. By the end of the night Crazy Boy had the whole room aghast as he balanced from on top of a free standing ladder, while juggling. There was a real chance of bodily harm. Having really earned his name, it was questionable if Crazy Boy had practiced the trick enough (without a net). Luckily, he pulled it off, along with his shirt, as the crowd went wild!


The evening came to a close with an inspired dance routine performed by Sunny (the full name escapes me - I know it appropriately began with "Sunny") in a dress seemingly made entirely out of hair.


Weirdo Wednesday sure lived up to its name. The fact that such a fun-filled evening is void of any cover charge makes it pretty critic proof but I have to say that I wouldn't mind dropping a couple of bucks in a tip jar if it were passed around periodically throughout the night. And I wouldn't mind, instead of featured acts getting two twenty minute sets, maybe upping the ante a bit, and adding a few more acts to the evening's bill and limiting each act to a single twenty minute set for a bit more variety. I think it would really bring this event to a whole other level. But I've got a feeling that Amy knows her talent pool well and what its limits are. Here's hoping it grows and grows. Weirdos of the world Unite! You have nothing to lose...period.