Schwervon! Album Release and European Tour.
picture: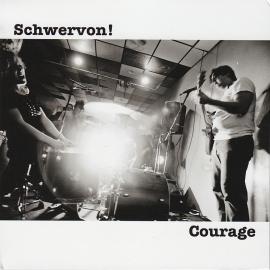 SCHWERVON! COURAGE: RECORD RELEASE PARTY!
@ Riot Room
4048 Broadway/ KCMO
$5adv/$7dos.
Get your tickets here:
http://www.theriotroom.com/event/157199/
8:30 FOLKICIDE
http://soundcloud.com/folkicide
9:15 THE LUCKY
http://www.reverbnation.com/camillacamille
10:00 THE CONQUERORS
https://www.facebook.com/pages/THE-CONQUERORS/361512172330
11:00 SCHWERVON!
http://www.schwervon.com/
We are super excited to finallly get this album out! It was created in NYC, recorded in Memphis (with Doug Easley) and now we're gonna release it in Kansas City! Playing at the party are some KC top notchers. Come celebrate with us!! Formal dress not required but shakin' your ass IS. Facebook Event: http://www.facebook.com/events/426182647419177/
And after that we're heading back to Europe to spread the good news over there. Check out tour dates below!
XO
Nan & Matt
SCHWERVON! FALL 2012 EUROPEAN TOUR!!!!!
-OCTOBER
Germany
4 Berlin (Schokoladen)
5 Dresden (Ostpol)
6 Krakow (Rozrywki 3)
7 Vienna (Rhiz)
8 Munich (Südstadt)
10 Nurnberg (k4 - w/ The Wedding Present!)
11 Mannheim (The Blau)
12 Regensburg (W1 - w/ Jenny Lund)
13 Gunzenhausen (Cayman Bar - w/ Jenny Lund)
Switzerland
14 Tobel (Komturei Tobel)
15 Zurich (Bosch Bar)
Germany
16 Wetzlar (Franzis)
17 Darmstadt (Oetinger villa)
18 Koln (Haengendegaerten)
19 Bremen (Spedition)
20 Oldenburg (Wagenburg)
21 Hannover - (TBA)
22 Hamburg (Astra Stube)
23 Offenbach (Hafen 2)
France
24 Nantes (Le Stakhanov)
25 Paris (Pop in - w/ The Pirouettes)
United Kingdom
26 London (Stag's Head - w/ David Cronenberg's Wife, Bilkis + spinmaster plantpot)
28 Cardiff (The Moon Club)
29 Bristol (Cafe Kino)
30 Nottingham (The Chameleon)
31 Wakefield (The Hop)
-NOVEMBER
1 Manchester (The Castle)
2 Halifax (Arden Rd Social Club)
3 Glasgow (Glasgow College of Art)
4 Aberdeen (Brew Dog)
If you can't make it out, or you don't presently reside in Europe, please feel free to share this FB event with any friends you think might be interested in attending one of the shows! We sure would appreciate it! Facebook event: http://www.facebook.com/events/144656895675336/