Welcome to The New Olive Juice Music Website
picture: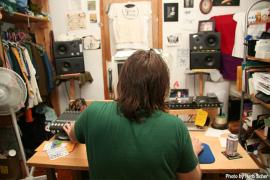 Hello and welcome to the new Olive Juice Music website. Thanks for dropping by. Please feel free to click around and kick the tires. There are some new features that we think you're gonna like.
First off I'd personally like to thank Crystal Madrilejos for her design skills, Dibson T. Hoffweiler for his web building skills, and Solena Toussaint for her patience and commitment researching, processing and managing all of that data. Thank you all for helping make this thing come to life. I'd also like to thank the people who helped beta test the site and for all of the very helpful feedback they provided. Keep it coming!
The success of Olive Juice Music has always been dependent upon the people that use it. We want to hear what you think!
We are somewhat proud to say that the design and manufacturing of this site was accomplished completely free of any cash exchanging hands. Thanks to creative bartering, some big favors from good friends, and YOU we were able to, hopefully, produce an interesting hub for showcasing and supporting the artistic community that we love. This is not to say that we are totally anti money. We realize that at this juncture in our human evolution money is still necessary for making stuff happen.
And speaking of that, it just so happens that the new OJ Distro store is now easier than ever to use. The site now features detailed information about all of our artists with links to websites and myspace pages as well as hyperlinks to related artists and side projects. We now have a site dedicated search engine for easy access to any subject matter on the site.
We are very excited to introduce a user content generated Forum, Open Blog, and Events Calendar. Please feel free to use the Forum to share and discuss interesting topics of the day or look for stuff that you wish to buy/sell/or trade. The Open Blog is for submitting articles, reviews or longer format essays. And if you have a gig or art show please feel free to post
it to our Event's Calendar. To use all of these features you will need to create a one time password account at the module to the upper left of this page. Don't worry, OJ does not share user account information with anyone. We do not sell our lists to SPAM generators or any other commercial entity...and we never will. Also please feel free to sign up for our Newsletter to stay current on new distro items and OJ supported events.
Okay, this is still a bit of a work in progress so feel free to hit us up at the forum with any suggestions about what you like or what you think could be better.
Thanks for your love through the years and as always thank you for supporting real independent music.
MMM