Online video of Major Matt Mason USA performing "Follow Her" September 1, 2010 @ The Sidewalk Cafe.
picture: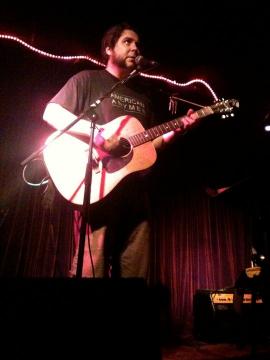 Major Matt Mason USA is the stage name for songwriter/producer Matt Roth's solo projects. Inspired by the homemade tapes of Daniel Johnston, MMM's first recordings appeared in cassette format around 1994. He has since released 5 full length albums (on CD and CDR) and two 7" singles on Olive Juice Music. The music is riddled with influences that range from the paired down songwriting of early Bob Dylan to the more noisy elements of The Velvet Underground, Neil Young or Yo La Tengo. Although he's dabbled with various live band arrangements typically his performances consist of MMM singing over chunky self accompanied acoustic guitar strums. Matt is also a member of the bands Schwervon! and Kansas State Flower. This particular concert marked a 2 year anniversary the "One-off" spoken word concept: where on the day of each live show an original prose-poem was written as the sole purpose of being recited as part of that evenings performance. The concept was to have an original piece of materiel that was totally unique to each performance.
He's presently considering some kind of printed collection of these poems.
DIY singer/ songwriter Major Matt Mason USA performing, "Follow Her" from his album, "Honey, are you Ready for the Ballet" at The Sidewalk Cafe in NYC. Photo by Jonathan Dobson. Video by Evan Bellaff.