Major Matt asks Toby Goodshank 5 questions (#2)
picture: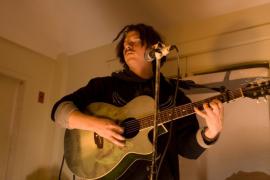 1. How did we meet?
Major Matt and I met at Sidewalk, for sure. Circa 2001. Even before we met I had seen him play the open mic there with Nan. I'd also see him at Alice's (RIP) occasionally, while I would be having breakfast with Crystal. I wanted to say hello but I was too shy. I vaguely remember him having a soul patch. At some point we exchanged CDs, saw each other play a few times, and he extended the invitation to me to participate in the Olive Juice collective. I was psyched because not only was I a huge fan of Matt's, but I had/have a big ol' boner for the music of Prewar Yardsale, and wanted to be down with this crew in the worst way, which in my opinion were on par with that of Jesus Christ and His Apostles.
2. 3 things that make you happy?
Oh man, three things that make me happy are giving and receiving genuine love and affection, feeling ecstasy both naturally and artificially (preferably the former), and singing with every ounce of strength that I can summon.
3. 3 things that make you sad?
Geez, three sadness-inducing things... I don't even wanna dwell right now to be honest, I been feelin so good lately... Feeling misunderstood, feelings of disappointment in humanity, being disappointed in myself, these have been cornerstones for as long as I can remember. I stop now.
4. What is your favorite color?
In my advanced age I tend to favour pastels, but i think my favourite colour will always be magenta. I used to have a baton filled with clear liquid and magenta-coloured glitter, I would twirl that shit all fucking day. That was just 2 years ago.
5. 3 things that you really, really love?
Ack! I feel like I kinda blew my wad already with question # 2...Those things that truly make me happy are also that which I love.