Malmo-Copenhagen (Tour Daily2)
picture: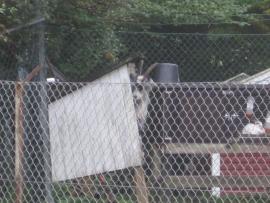 Malmo-Copenhagen (Tour Daily2)
9/11
Woke up this morning in a hostel and looked out the window to see a goat sticking its head out of it's little house. Taking its time, not wanting to come outside.
It looks like a little farm just over the fence next to the hostel. Once one goat left his shack anothers head appeared in the doorway, eventually there were multiple goats walking around.
Last night we played Copenhagen for the first time ever. It was our third show of the tour and maybe it was the show but I think we're all feeling a bit mentally drained already. We were the only band playing so we played about 90 minutes and it was one of the last remaining bars that people could smoke in so it was filled with smoke. There was no stage and the audience was right up against my microphone and in my face. It gave the evening a lot of energy but it also made me very claustrophobic. I was also scared someone would smash into my microphone which would smash out all my teeth. (which did happen once, but luckily I did not lose any teeth) The room was so small I was right in front of a huge bass amp and the drums all of which was punishingly loud. The loud volume might have made me nauseous or perhaps it was all the smoke in the room
Before the show Dave (who had played Copenhagen before with Johnny Flynn when they opened for Mumford and Sons) showed Jeff and I around Christiania, the park/commune/sovereign nation in Copenhagen. (http://en.wikipedia.org/wiki/Freetown_Christiania) It's pretty weird. The park is maybe half the size of Central Park with a big lake in the middle.
Near the tourist entrance there are multiple little tables where people sell copious amounts of hash and marijuana. I'd heard of Christiania for a few years and I was excited to finally see it. It's a combination, hippie, punk, anarchist, classic European institution which is also in danger of getting shut down.
On one entrance it reads Christiania and on the other, "You are now leaving the EU" A lot of buildings and shacks people have built over the years.
There are multiple graffiti signs that tell you that photography is not allowed. When Dave was here before a friend of his took some photos and was promptly reprimanded by some sort of punk security guys who took his camera away and threatened to keep it if he didn't erase the photos.
I don't take any photos at first. We walk around the lake and when's it's quiet I snap a few. As we leave and go "back into the EU" I snap a few more form outside although I'm very nervous I'll be yelled at.
The night before we played Malmo at a big club called Debasser. we were nervous there wasn't going to be anyone there (500 capacity), but luckily there were about 85 people which felt felt like a good size.
The Promoter Daniel was very sweet and DJ'd great songs all night long. Every time he put on a new song we either knew what it was or wanted to know. One track in particular confused us. It sounded like The Fall, then it sounded like Eddie Argos, then it sounded like the Hold Steady. I asked. It turned out to be "The Legend" AKA the music critic Everet True.
We didn't get to see much of Malmo, but we did stop in a vegetable shop in the morning where I bought a couple carrots. And also a bakery whee Dave bought a delicious cardamon danish.
Today is a long drive to Stockholm maybe 6-8 hours total.
We'll cross back over the huge bridge that connects Copenhagen and Malmo.
I also shaved last night.
I'm still taking my Gaba, (a diet supplement) which my roommate Stephen recommended to me for anxiety relief.
There are some off-putting moments of downtime on tour, when I suppose I should be reading (I brought Luc Sante's Low-Life on this trip, but have yet to be engrossed by it fully- 5 pages in), but don't. It' these moments when tour feels like a black hole. Listening to a Terry Gross interview with Brian May of Queen he talked about working on his PHD for 30 years and collecting photos while on tour. Jeff has a new song called something like "Time Trade" that's pretty guilt inducing about this. It's about having a project/interest that you work on that you constantly get better at. For him it's drawing comic books and now doing historical research. I always want to find that something that I can do and build on so I won't feel like an empty shell in 10 or 20 years. I'm not sure I'll find it.
I'm trying to do this comedy/variety show video/internet project, but I'm not sure how satisfying and/or enlightening it'll be in the long run.