Edinburgh Man Podcast #29
picture: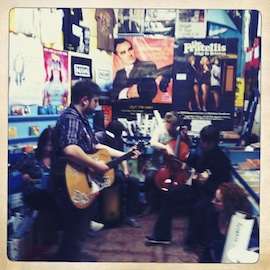 http://edinburghman.com/edinburgh-man-29
Another podcast ramble through the worlds of indie-pop and unsigned / self-released music.
Matt posted a link to the podcast last week, so I thought I'd post an entry for the latest episode. Initially when I started recording this podcast it was just a chance to play music that I was enjoying listening to at the time, and ramble a bit of nonsense. The rationale has become a bit (although not much) more focused over the last 8 months. I try and pick my favorites tracks from recent indie label releases, but I also try and find some interesting self-released and unsigned music too. In general much of the music is new to me, although I do throw in some more well known artists and tracks sometimes.
If there is any method to the madness it's that I play some obvious music to hook people in, and then play some tracks from artists that I don't think they'll have heard before.
This week's show (actually last week's show!) has a track from the new Marnie Stern album just released on killrockstars, two lofi acoustic tracks from artists who release their music through CLLCT.com, a new Throwing Muses demo from Kristin Hersh, and two tracks from recent releases by Edinburgh bands The Last Battle and Enfant Bastard. An OJ connection here… Enfant Bastard supported Schwervon! when they played Edinburgh last December, and the track is actually a cover version of a song by Withered Hand who also played at the same gig.