Linda Draper To Perform @ CMJ Tue. Oct. 19 @ Knitting Factory, 6 PM! Free Special CD's for the first 20 People!
picture: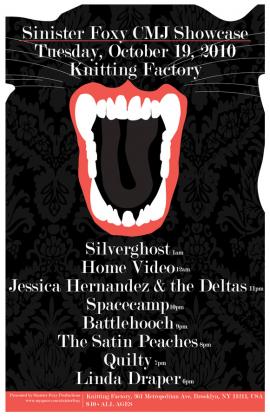 Hi!
I am so incredibly stoked to be sharing this news with you: I will be performing in CMJ on Tue. Oct. 19 at 6 PM!!!
This will be part of the SINISTER FOXY Showcase at KNITTING FACTORY (361 Metropolitan Ave., Brooklyn, NY 11211)
And...I'll be joined by Scott Fragala on Bass and Eric Puente on Drums!
Here's a sneak peek of a couple songs we will be performing:
SLEEPWALKERS - Performed at WEBSTER HALL in July 2010 (Eric Puente on drums, Scott Fragala on Bass)
TIME WILL TELL (but on Tue. it will be with a band!) This was recorded at Knitting Factory back when it was still on Leonard St. in NYC - I think I fumbled and recovered (and laughed?) in one place in this song, can you even tell? It was pretty subtle...
Also scheduled to perform: (7 pm) Quilty (8pm) Satin Peaches (9pm) Battlehooch (10pm) Spacecamp (11pm) Jessica Hernandez and the Deltas (12 am) Home Video (1 am) Silverghost
There is a $10 cover. I will be giving away a special compilation CD called "No Frills" to the first 20 people who would like it. This CD is a special collection of songs taken from my early years of recording, specifically, my first 3 albums (produced by Kramer - Ricochet, Snow White Trash Girl and Patchwork recorded in 2000-2003), which are now out of print.
I will also have available (but for purchase) my more recent 3 albums (One Two Three Four, Keepsake and Bridge & Tunnel) which thankfully, still are in print. I really hope you can make it! If you can't, please feel free to send a reprenstative (or 2) in your place.
Thank you!
Linda Draper