Anti War Protest in Times Square 12/16/10
picture: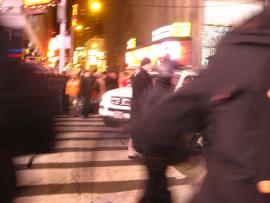 Last night I attended a War Protest in Times Square that was followed by a small civil disobedience act in support of a similar rally that in Washington DC where 135 people were arrested for chaining themselves to the White House fence. http://www.opednews.com/articles/135-Arrested-For-Civil-Dis-by-Rob-Kall-....
I'm sorry to report that I was among some of the younger people there. But I found the event very inspiring and I'd be interested in learning about or even helping organize a group of younger people or musicians that could help draw a bit more attention to this very important issue. At the end of the protest a small group of people blocked the the traffic in Times Square in an act of civil disobedience against US involvement in various wars around the world. After about 5 minutes they were arrested and placed in a police van. Here are some pictures of people I consider real American Heros!