At Home He's a Tourist
picture: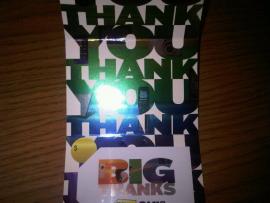 The Saturday before Christmas is the busiest shopping day of the year. So Saturday night Dina and I decided to do some Christmas shopping. We walked up to 125th Street to shop for CDRs. We were shopping to buy some Jazz mix CDRs from the street merchants set up all along 125th street. It was getting late so with most of the merchants packed up we had to go on shopping elsewhere. We took the A train downtown. We went to the Columbus Circle Holiday market. The market was also closing(I guess people like to shop mostly in the daytime) but we quickly shopped the booths. There was jewelry, leather goods, scarves, candles, t-shirts, and even beauty products made out of salt from the Dead Sea. What a cool idea. I have been watching a show called The Rift on Natural Geographic Wild which is awesome so when I saw the Dead Sea products it made me think of the show. Flamingos have adapted to live and thrive in inhospitable and toxic habitats along the Rift connecting/disconnecting Africa and Asia. I thought it was cool that people had the ingenuity to create something beneficial from another inhospitable habitat like the Dead Sea. We left the Columbus Circle Holiday market and walked up to Best Buy in the sixties. It wasn't very crowded so I guess when they say Saturday is the busiest shopping day of the year the emphasis is on day. Dina helped me look through the Jazz CD's. We looked at a lot of LIve at Newport CD's and a lot of Live at Monterey CD's. We eventually decided on two Diana Krall DVD's. Dina went to buy a gift card. We went downstairs and I picked a copy of the first Doors LP. Barney Hoskyns has my mind in Los Angeles. Then I went to the CD section to find something by the Jam/Style Council/Paul Weller, but I couldn't find anything. I saw Regina's new live DVD and CD, it looked really cool. She looked iconic. Dina came back and I showed it to her. After we left Best Buy, It was getting late. We stopped at Josephina's on 63rd street and had a nice dinner. After a nouveau American meal, we couldn't find a cab, so we hopped on the M104 and went home.
-All the people at Josephina's had been at Lincoln Center, they were talking about Bio's, rehearsals, etc. It reminded me of when we used to go to Odessa after a night of music at Sidewalk.
- While we waited on line we saw Sony headphones, a Beatles Box Ipod plastic card for $200. Merry Christmas!
From the newsstand on Third in Gramercy Park I bought Uncut with Paul Weller on the cover. Then I went to the Best Buy on 5th Ave, I found the Paul Weller CD but the line was too long so I left. I interacted with the I-tunes demonstration on a flat screened Television. I played two songs from I-Tunes, Citadel and Moonshine.