At Home He's a Tourist
picture: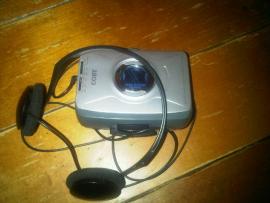 Monday night I decided to go to Bowery Poetry Club. I brought my COBY so I could listen to tapes and the radio on the trip downtown. I'm not sure about COBYS, the radio is good and stays functional for a long time but the cassette player gives out after a couple of months. I was listening to a tape and it would play at normal speed, then it would really slow down. I would press stop, fast forward for a few seconds, then press play and the COBY would play at normal speed, then it would slow dow, repeat the process...etc...etc...etc. I'll buy some new batteries and see if that helps but I seriously doubt it. It's strange that the COBY is the only portable cassette player I can ever find retail in New York because the Sony Walkman is an amazing, durable, long lasting cassette player that can last for years, and doesn't eat tapes as often as COBY. The only reason I have the COBY is I got it as a gift. I was going to return it and order a Walkman online but I thought maybe the COBY had improved ( I had one once a long time ago and it was the same poor quality) but it hadn't at all, but since it was a gift it was cool just to check and see if the COBY had made any improvements. It's also cool that for the first time in a long time I'm enjoying listening to the sounds of the city. However there is nothing like listening to some great music on the go, so I'm really leaning towards ordering a walkman. Sony is discontinuing them
(unbelievable) so I better act soon or I'll have to wait five years till they're reintroduced as a trendy expensive novelty item in trendy expensive boutiques and trendy expensive catalogues.
I get to the Bowery and I love that place. Monday night is the NYC talent show with Diane O'Debra and Victor Varnado. There's always a cast of characters there, some do standup, some poetry, some music, some performance art. In fact a lot of Artstars show up to perform. I was psyched I got there and got a great seat at the bar. I ordered a beer and was ready for the show. Stefan opened the show, he's a great saxophone player so I expected a honking sax. I noticed Stefan had this huge backpack on his back. I thought maybe he was doing a traveling , backpacking, saxophone playing schtik, and that would be a funny idea so I thought Great! Stefan starts to play and these orange flames start shooting out of the saxophone, at first I thought it was a magic trick, optical illusion or hologram or something but no, it was real fire! I was stunned. I keep watching and listening until I realized his huge backpack was full of explosive liquid and the tube connecting the sax to the pack seemed dangerously close to the flames. I was going to play it cool but I pulled a George Çostanza and ran out of the bar. Anyway Stefan finished, everything was fine, and everyone loved his performance. The only tragedy was someone took my seat at the bar so I had to stand. Diane and Victor performed an amazing rap song. The song was really funny and Diane and Victor are really great rappers so it sounded great too. Of course I saw A Brief View of the Hudson, their one of my favorite bands in New York, and of course they were terrific as always. They play country music and they're the house band at Bowery and a few other places around the city. It's a late night at NYC Talent Show and I was really tired from standing so I had to leave about halfway through. Anyway like I said I love that place and I had a great time. So on the way home I bought new batteries for the COBY just to see if it was the batteries, I didn't listen to it yet but I will try it right now...... Wow! I owe COBY a big apology, it sounds great with some new Duracell batteries, Duracell are great batteries so I'm only half surprised. I think the Walkman is better but if you don't mind having a tape eaten once in a while the COBY is alright.