Major Matt asks Jonathan Berger 5 questions (#15)
picture: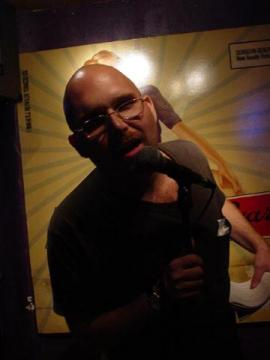 1. How did we originally meet?
I'd been seeing shows and going to open mics, but I remember the first time I spoke at length to Major Matt (who is you, so maybe I should refer to you in the second person) was going up to an Albany Border Books for what may have been the entirety of the Shanachie Presents: Lach's AntiHoot Tour. I'm guessing it was '96, right when I started writing a lot for AntiMatters, the AntiFolk fanzine, and the Shanachie compilation album came out. Lach had asked me to drive you, Paula Carino and himself to join Michael Eck at a show in Border's books to promote the album. You guys did round robin performances, and we all had chances to talk that hadn't really existed before (until then, I didn't really talk to the talent). I'd built up a pretty strong friendship with Paula for a while after that.
Soon after, you disappeared from the scene for a bit (I think you had a relationship that was heating up), but I'm pretty sure that I told Paula when you were looking for a housemate, thus connecting you two again. Later, I also procured your current girlfriend.
2. 3 things that make you happy?
Showboating - I crave attention, and spend a fair amount of time out in public seeking it.
Validation - If someone I respect (or lust after) expresses appreciation for something I've said or done, it feels good.
Ejaculation - I do it, like, a lot.
3. 3 things that make you sad?
My shyness - When not showboating, I'm usually somewhere in a corner, waiting for someone to talk to me. It's why, after having been around the AF scene for two years, I don't think we really spoke until I chauffeured you up to Albany,
Loneliness - Because of the my shyness - and maybe a general lack of self-esteem - I find that I don't have the relationships I'd like to have, either with the objects of my lust or often, even with friends. It might be because, like every 12 year-old, "nobody understands me," but more likely, it's because I have difficulty reaching out. Poor pitiful me.
Premature ejaculation - I do it, like, a lot.
4. What is your favorite color?
Black - or royal blue. I'm partially colorblind. What's YOUR favorite color?
5. 3 people who inspire you?
(I'm gonna keep it local, because I'm not sure anyone cares how much I appreciate Mussolini for his sudden rise to power predicated on his ability to speak to peoples' hearts)
John S. Hall (http://www.levity.com/corduroy/hall.htm) - I saw King Missile in college, and liked it fine. When I discovered, years later, he was part of the AF community that I'd come to call my own, I grew to appreciate his wit and facility. I started doing my spoken word stuff in an effort to emulate Mr. Hall. Also, the shaved head.
Hamell on Trial (http://www.hamelltv.com/) - He believes in his art. He's been working, as long as I've known him, pretty much full time as an artist. Not too successfully, mind, even though I find his perfomances, his songs, his demeanor, pretty fantastic. He tours, he records, he did, for over a year, a song a day that he put up on line for the public's listening pleasure. He's kick ass. Also, the shaved head.
Major Matt Mason (http://www.wildtoys.com/MMMPage/index.asp) - He has been into the DIY East Village for as long as I have, but while everything I've been involved with his turned to ashes, he has built something of an empire, working with others without seeming to screw anyone, and keeping a modest outlook. Now if only he shaves his head...
http://www.olivejuicemusic.com/artists/jonathan-berger
www.jonberger.com