Boom Chick – Live in Charleston
picture: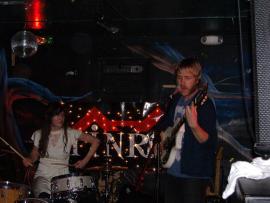 Boom Chick, the duo of Frank Hoier & Moselle Spiller, are touring the south for the month of March on their way down to the Florida Keys for some R&R. Luckily for me, and for Charleston, they booked a gig at Tin Roof, a roadhouse in the West Ashley section of Charleston (think Brooklyn to Manhattan).
Tuesday nights at the Tin Roof is trivia night and the bar was filled with people playing and partying. Unfortunately, being trivia night the music doesn't start til 10pm, pretty late for a school night. I was a little afraid people wouldn't hang out to hear Boom Chick. Opening for Boom Chick was the duo of Brad Edwardson and Sarah Bandy. They were great and Sarah has a terrific voice, but they did too many covers for my tastes. I had antifolk on the brain so I was in the mood for original tunes. Frank and Moselle moved quickly to take the stage a little after 11pm and as folks were heading for the exits, but once Boom Chick began their set people dropped their coats turned back around. Boom Chick is that good! The Tin Roof has an outdoor bar for folks who smoke. They have a big screen TV out on the deck which runs a feed from the stage inside so everyone can enjoy the music. I stuck my head out the door while Boom Chick was on stage and there had to be at least 15 folks out there enjoying the music. In the parking lot were a handful of folks listening to the music as it came through the door and they were dancing and having a great time. Frank had a bit of a sore throat before showtime and had been gargling salt water all night. It must have done the trick cause he sounded great. Moselle was the big surprise for me. I had seen Frank play quite a few times solo and I knew him to be a fantastic musician. I had never caught a set by Boom Chick though and I had heard that Frank had taught Moselle how to play drums and that she hadn't been at it for long so I had doubt as to how good she, and therefore the band, would be. I'm happy to say after seeing Boom Chick live, either Frank is the best drum teacher ever or Moselle was born with drum sticks in her hands. She was amazing! I even overheard people in the crowd commenting on how good "that little girl behind the drum set" is. A few people started dancing and a great time was had by all. I hope this is a start and more folks from the antifolk scene who tour will book a gig in Charleston.