Major Matt asks Yoko Kikuchi (Dream Bitches, Daouets, Tight Little Ship) 5 questions (#22)
picture: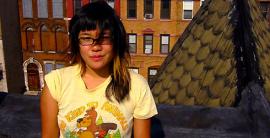 1. How did we originally meet?
Here's how I remember the first time I saw you play a solo set. Nan said, "I'm setting up a show with me and my boyfriend and Rachel Lipson, at this place The Stinger. Wanna play?" I said OK. It was during my senior year of college, on winter break. I had never been on Grand Street (in Williamsburg) before. Onstage, you were wearing a red cardigan sweater and said you had quit smoking recently. I bought your CD afterwards.
Here's when I think the first time you saw me play was. Nan asked me to play her Leg Out CD release party at Sidewalk. This was a couple months before the Stinger gig. I took the bus down from Massachusetts especially for the gig. I don't actually remember you being there but I have written in this notebook that I used to pass around: "My friend Sam thinks you are a better songwriter than me. -MMM" At the time I don't think I knew who you or Sam [Lazzara, of the Leader] were. I liked finding that years later.
2. 3 things that make you happy?
I like transitional times, feeling like I have things under control, and when it stays light really late.
3. 3 things that make you sad?
The dusk hour between sunset and nighttime has always made me feel a little bit depressed, which is funny because that is a transitional time. The fact that I might never know most people I like as well as I want to know them. And I get intermittently happy or sad when I think about the future (of our lives, and our civilization). Sometimes it looks like a beacon of shining potential and sometimes it's just this gray blob.
4. What is your favorite color?
I think it's pale yellow, or rust red. Those are the colors of the last two bedrooms I lived in for any length of time.
5. 3 people who inspire you?
This could get insane. I think every one of my friends is inspiring! My life is filled with geniuses. I absolutely can't pick just three. Okay, I'll try...
Angela Carlucci (did you SEE what she wrote for these very questions last fall?) appreciates life and sees the best in people and notices every detail and tells the best, funniest stories as a result. Her songs are exactly the way she is - warm, well-presented, insightful.
Kate Wheeler and I have an awesome time hanging out, she's the best friend I've made in the past few years and I think I could tell you three or four songs or lines in songs that I've written in the past year that refer to different lengthy late-night conversations that we've had. She's also a great poet and writer.
Oh, and a couple months ago I saw the songs of Phoebe Kreutz performed, with props, costumes and choreography, by a bunch of Broadway stars. This was like twenty of her songs, most of which I know all the words to, most of which I remember when they were new, and this was a sold-out venue on 46th St. Totally, insanely intense. I went to play a show at Goodbye Blue Monday right afterwards and I was too mind-blown to play when I was supposed to.
Other people who I feel like I can't not mention are Jacinta Mack, Julie DeLano, Dan Fishback, Andrew Hoepfner, Mary Bluestocking, Jenn Kelly, Sarah Himmelfarb, Nan Turner, Tina Harris, Julie LaMendola ... and of course my bandmates, Sara Lautman and Christy Davis. This past Saturday we squeezed out ten songs in five hours. That kind of stamina comes only from inspiration by one's collaborators.
Love, Yoko. PS. Sorry about all this name-dropping. I'm such a disgusting name-dropper. I could list at least fifteen more, though. Why does everybody have to be so fucking smart and talented and nice around here? God.
http://www.olivejuicemusic.com/artists/yoko-kikuchi
http://www.olivejuicemusic.com/artists/dream-bitches
http://www.olivejuicemusic.com/artists/daouets