Rock 'n Rollers Don't Bathe
picture: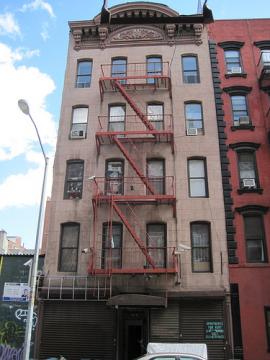 NYC to KC Week 1 (April 4/5/6, 2012)
It was a nice sunny day when we finally arrived in Kansas City. We didn't quite make our 2 day goal. After spending the first night in Western Pennsylvania we were going to try and push through but we ran into a nasty rainstorm just outside of St. Louis. After a bit of a crisis trying to figure out how to turn on the U-haul window defoggers, we decided to grab a hotel and drive the remaining 4 hours the next morning. We figured it would be nicer for Nan's first look at KC to be during the day after a good night's sleep vs. two o'clock in the morning after 12 hours of driving.
As we rounded downtown KC and headed into the suburb of Shawnee (where we will be living for at least the next 3 months), I couldn't help but notice what a job the "strip mall" has done on the landscape here. I'm not saying that Shawnee was ever anything like Mayberry or that the concept of the strip mall had not already been introduced to the neighborhood well before I left. But the thing that seems so disturbing, aside from the illusion that all the buildings along Shawnee Mission Parkway (the "Main Street" of Shawnee) appear to be more or less part of one very long building no more than 2 stories high, is that now they are all bathed in the same bland tan or neutral earth tone color as well. I gotta say it makes a real, lack of, impression on someone just driving through. And if I hadn't planned on living here I would probably have completely forgotten the experience by the time I'd reached the edge of town. I really don't understand this trend of light neutral earthy tones- don't get me started on the waiters in khaki pants and white tennis shoes look- but it feels like the entire city Shawnee has been modeled after a retirement community.
With that being said, as we turned off of Quivera road, the canopy of Maple trees that line the entire block of 68th street are a truly breathtaking site for a long term Lower East Side of Manhattan resident. You really don't see trees growing like this in New York City, not even in Central Park. I don't remember them being quite so high and full, and then I remembered that those trees are nearly 20 years older since the last time I payed any real attention to them. I've never claimed to be the outdoorsy type but I had totally forgotten how lovely the trees are here. I even didn't mind all those little helicopter seeds that seem to be everywhere this time of year.

The house actually looked nicer than I remembered. And hey, we've got the biggest flag on the block. My Dad has installed 3 flood lights around it, so even at night, people see the grandeur of Old Glory. Oh, Boy (he said sarcastically)! Oh, well...at least it's not a cross. It's a little strange how quiet and empty the streets are here. It's almost creepy in a Lynchian kind of way. I'm digging it. I forgot how pretty Robins are. Their beaks are so yellow. There is a pine tree in the front yard that was just a seedling when I was a boy. I used to jump over it with my friends. It must be at least 20 feet high now.


I think, out of the 3 of us, Gummo was the most noticeably excited about our new home. I didn't know how he would react. Having spent most of his 14 years of existence in a 500 square foot apartment with 2 people and a lot of junk we could have been setting him up for quite a culture shock. I feared maybe he would be overwhelmed by all the space and just turn into one of those cats that hides under the bed all day? Luckily, in true form, he's pretty much claimed the entire home for himself. Plenty of stuff to crawl on and hide in. He also seems to really enjoy checking out the birds and the postman from the bay window in the front room.

We spent the rest of the day unloading the U-haul. Then we set up in the living room for a quick practice for our Middle of the Map Fest show the following day. Since we only had the U-haul and it was about out of miles, Darren was nice enough to come pick us up and take us to the Record Bar. The Record Bar is, so far, my favorite KC venue. It's owned by Steve Tulipana, the lead singer of a legendary KC band Season To Risk. It was a real stroke of luck that we managed to get a gig at this festival the day after we arrived. We shared the bill with a handful of old KC indie rock bands who rarely play live anymore including: Season To Risk, Cher UK and Molly McGuire. This all made for a very surreal night for me considering all of these bands were pretty big on the KC circuit back when I lived there and played in my own little math rock group called Dracomagnet. I kept running into people who looked familiar, maybe with a little gray in the hair or a bit rounder around the middle, like me. I recognized the lead singer of a band called Germbox, and he looked exactly the same. I loved those guys back in the day. He told me that their old guitar player lived in Williamsburg, Brooklyn now. Damn, wish I would have known. I would have looked him up. I was thoroughly rocked by all the bands. It was pretty much a dude fest with Nan being the only female on stage out of 5 bands. We did a lot of head nodding and serious face looking to the music. People were incredibly nice and welcoming. The next night we played at the "First Friday" event at the Midwestern Musical Co. This is a store where Darren works. We had another great night opening for a nice folky group of kids by the name of She's A Keeper. They were kind of a Blue Grassy version of Arcade Fire. Great stuff and very nice people. The First Friday event is a thing where a lot of art galleries in this area called the Crossroads in Downtown open up and serve drinks and have live music. People walk around and listen to free music and look at art. It's pretty cool.