Rock 'n Rollers Don't Bathe
picture: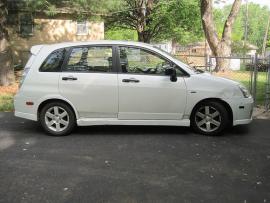 Schwervmobile!/ The Quivers, Deco Auto, Cave Girls @ The Brick - KC,MO (4-28-12)
First things first. We finally managed to pick up our new (used) car on Friday. We got to take a trip out to Liberty Missouri. She's a 2006 Suzuki Aerio. I guess she's actually a he. On the drive home Nan officially named him Waylon Jennings. Waylon has a couple of battle scars but, for the most part, a very sound motor. We are looking forward to seeing how he performs on our up and coming Schwervon! Tour in May.


Nan and I were in a celebratory mood last night so we thought we'd catch a triple bill of some of our new local friends at The Brick in downtown KC, MO. It was just what the doctor order. Every band had us shaking our tail feathers. It was nice to see so many kick ass ladies on stage as well. Here's some arty (translation: blurry) pics I snapped.
The Quivers started the evening with some down and dirty, R&B, Rockabilly concoction that got us warmed up proper!

Next up: the pop punk stylings of Deco Auto. Schwervon! is going to be playing a show with these fine folks along with The Ants at Replay Lounge in Lawrence on May 24th. I'm psyched. FB RSVP

The night ended with the sizzling, cave-stomp, garage rock of: The Cave Girls.


Not a bad Friday. Looking forward to sharing the stage with all of these great bands eventually!