How Joanna and Fran became JoFranna
picture: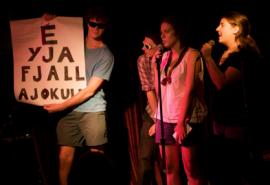 I knew Fran was cool before I really knew Fran. She's funny without being loud. She's smart without being pompous. She's hilarious... but only if you're paying attention.
So when we started talking during a Betsy's birthday party at Daddy's Bar in January I thought I should tell her. Most people would've said "Um... Okay. Thanks" and then gone over to Neil and said "Dude. Your sister is weird." But not Fran. Fran said something along the lines of "You're awesome!" And then we made a New Year's Resolution: Better Friends in 2010.
We saw each other a short while later for a Crafternoon at Humbolt Street. Wheels was helping me cut out a vinyl sticker to put on my new bass. Fran was creating fancy hair clips with vintage fabric for a DIY segment on Betsy's Place. We both agreed that the there was an alarming lack of candy available. We needed to fix this.
"Want to walk to the grocery store around the block?"
"Sure. Is it cold? Do we need our coats?"
"No. We're pretty tough."
Then she popped the question: "I'm trying to do this whole song writing project with different people. Do you want to write and record a song with me?" It's probably the best compliment I've ever gotten.
We wrote our first song together in February and called it Tough Girls It's chock full of references from our experiences teaching teenage girls. That's right. Girls these days really do put Vaseline on their face before a fight so that when their opponent punches them, their hand "just slips away." These young women also engage in the art of Homey Hopping: hooking up with all the guys in a particular social circle in rapid succession.
The only thing better than this song is its music video. Fran creates all our music videos in MS Paint and Windows Movie Maker. I can only imagine that it's a painfully slow process as you create each image you see flashing across the screen saved as a jpg. You can see all her videos at secretpicnicspot.blogspot.com (I especially like the one she did for Preston Spurlock).
After we wrote that first song, we just couldn't stop. We wrote Supersonic Man Meets His Match and Coney Island (featuring Toby Goodshank) in March. In April we wrote Super Old with Austin Kilham, and right before Fran left for camp at the beginning of July, we recorded Volcano. Five songs in five months. And for the first time ever, I met my New Year's Resolution. I am so happy to count Fran as my friend.
While Fran was off at camp, I decided we had to release an EP by the end of the summer so that everyone could get Coney Island into their music library. Ben Krieger squeezed us into Sidewalk's busy end-of-summer schedule. Thomas Bayne agreed to draw us some amazing album art. Major Matt found time to master our recordings and Peter Tripp helped us with printing the artwork. In just a few hours Austin Kilham, Tom, Fran and myself managed to put everything together.
The EP Release at Sidewalk was a huge success. The room was packed. Toby and Austin were amazing backup dancers, the eye chart spelling out "Eyjafjallajokull" was a perfect prop, and we got to put Vaseline on Luke Kelly's face and punch him. We also moved a ton of EPs!
If you haven't picked up an EP yet, the last ten are available from the OJ distro. Move fast!
http://www.olivejuicemusic.com/products/jofranna/you-want-cdr
Photo Credit http://sidewalkatsidewalk.blogspot.com/